DEFINITIONS
SHAPES OF ROOFS
Gable. Have you ever watched a group of kindergartners draw pictures of their homes? The drawings are often remarkably similar. In North America, a simple square topped by a triangle has come to symbolize home and all its comforts. And no wonder. The classic gable-or triangular-roof dates back to ancient Greece. Inspired by the Parthenon and other great temples, early builders in Northern Europe constructed homes with triangular gables at the front or the sides. Many American housing styles, from Colonial to Contemporary, have gable roofs. The triangular forms are often echoed in dormers, door pediments, porches, and wings.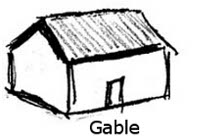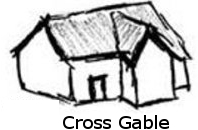 A-frame. Introduced in 1957 by the architect Andrew Geller, an A-frame home is all roof with no perpendicular walls. These distinctive A-shaped homes are usually built as vacation cottages.
Saltbox. Named after the boxes used to store salt during Colonial times, a saltbox roof forms a lopsided triangle. The slanting saltbox shape became popular during Colonial times when low, one-story rooms were added to the rear of taller homes. Twentieth-century Split Level homes also can have a saltbox roofline, usually facing the front.

Shed. Often used for porches, a shed roof is essentially half a gable. The simple, streamlined shape is a favorite for Contemporary homes.
Gambrel. A gambrel roof is a gable with a slight bend on each side. This popular roofing shape, often used for barns, is a hallmark of the Dutch Colonial style.
GAMBREL
Hipped. A hipped (or hip) roof slopes down to the eaves on all four sides. It may form a perfect pyramid with a single point at top, or it may slope down from a ridge. Hipped roofs are often found on French-inspired, American Foursquare, and a variety of Colonial and Victorian styles.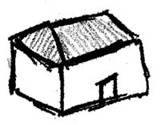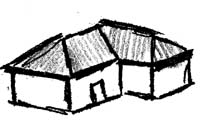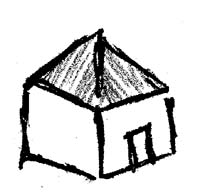 HIPPED CROSS HIPPED PYRAMID
Mansard. Nearly flat on top, a mansard roof slopes almost vertically down on all four sides. In 17th-century France, this elegant style became popular because it created extra living space in the attic. In the United States, mansard roofs are a hallmark of the Second-Empire style. You also may find variations of the mansard roof shape on Contemporary homes.
MANSARD